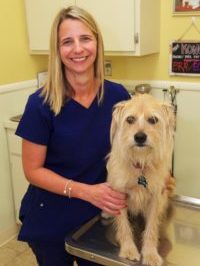 Dr. Guerrero
Veterinarian
Dr. Maria Guerrero is a native of northern New Jersey. She received her B.S. in Animal Science from Cook College, Rutgers University. During her undergraduate years, she worked as a vet tech for Parkview Animal Hospital. Dr. Guerrero received her D.V.M. from Ross University, with clinical training at North Carolina State University School of Veterinary Medicine. In 2003, Parkview Animal Hospital welcomed Dr. Guerrero back as an associate veterinarian, and in 2017, she and Dr. Kahn became owners of the practice!
Dr. Guerrero lives in Maywood, NJ with her husband, Ryan, her son, Lucas, and their dog, Finn. In her spare time, Dr. Guerrero enjoys hanging out with friends and family and enjoying the outdoors.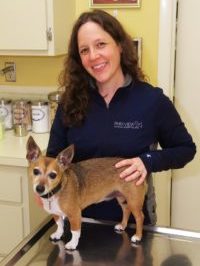 Dr. Kahn
Veterinarian
Dr. Adina Kahn has been an associate veterinarian at Parkview Animal Hospital since 2010, and has been a co-owner since 2017. She is a graduate of Barnard College (where she studied Environmental Science) and of the Cummings School of Veterinary Medicine at Tufts University. Dr. Kahn loves being a veterinarian and values the relationships she makes with both her clients and her patients. Her areas of special interest in the veterinary field include internal medicine and soft tissue surgery.
Dr. Kahn lives with her husband and her two sons in the Riverdale section of the Bronx, NY. Their extended family includes Clementine, a sweet and chubby cat, Zero, their loyal Chihuahua/Jack Russell mix, and eight long-lived goldfish. In her spare time, Dr. Kahn enjoys entertaining and hanging out with friends, as well as canoeing and camping with her family.